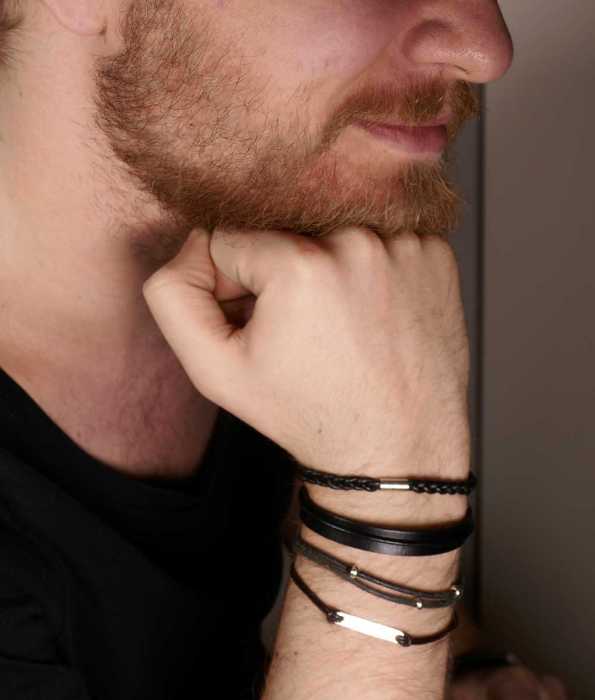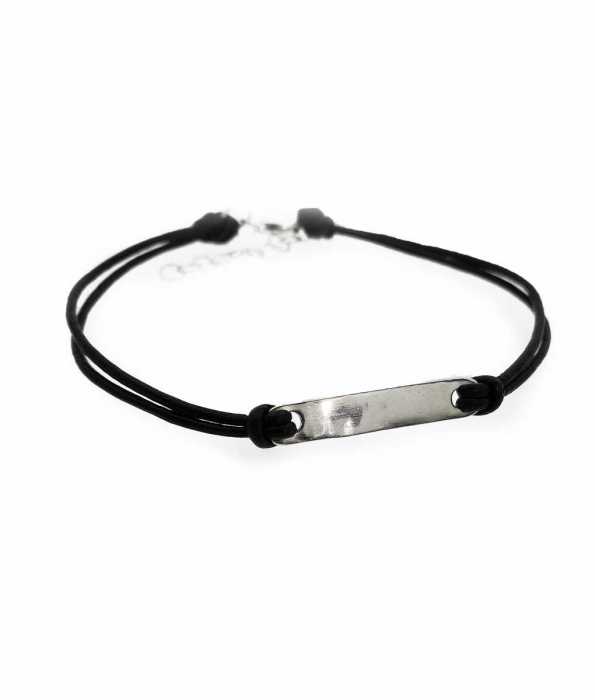 LEATHER AND SILVER PLATE BRACELET
Description
A black leather cord with a white gold plated, recycled sterling silver plate and lock.
Text can be stansed on the plate. Please send me an email with your request.
The size is adjustable.
Stock:

1

Weight:

1.30g

SKU:

L-Silver-Plate-Arm
All my sterling silver jewelry is white gold plated. You probably know how silver tends to become dull and looses its shine over time. You constantly have to polish it to keep it looking good. When I white gold plate my jewelry the finish keeps its shine much longer and you don't need to polish it. But I don't recommend it for jewelry that you wear every day because this is more prone to wear.
When you have placed your order you will receive an order confirmation to your email adress. If you have not received this within 24 hours, please contact our customer service at mo1@jewelrybymoette.com. When your payment has been registered we will send your order within 24 hours on weekdays. Deliveries are made through the Swedish postal service Postnord and should take between 3-5 workdays. We are not liable for delays or missing parcels caused by Postnord. We recommend that you ad an insurance to your delivery by choosing registered mail. This costs 97sek within Sweden and 155sek. to other countries. You will be contacted by your local post office when the parcel has arrived for pickup.
For custom made orders deliveries will be sent by agreement.
Free freight on orders over 500kr after any eventual discounts. Otherwise the freight cost is 39sek per order within Sweden and 57sek to other countries.
No freight is charged for orders that are picked up at Styrmansgatan 25, in Stockholm. Please arrange the time for pickup by phone to +46 70 6621893 or by mail to: mo1@jewelrybymoette.com
RETURNS
You have the right to return your purchase by notifying Jewelry By Moette within 14 days of receiving your order. The product must be returned unused in its original packaging. Items that can not be returned are products that have been specially made for the customer or where it is clearly stated "AVAILABLE BY ORDER ONLY" on the product's site page. These products are custom made and can not be returned or refunded. If you would like to make a return, please follow the steps below:
1. Send an email to: mo1@jewelrybymoette.com with your order-number and the reason you wish to make a return. The customer pays for the return postage cost when you choose to make a return.
2. The returned products must be returned in original condition and packaging, unused and in the case of seals they must be unbroken.
3. When we have received the return we will make a refund within 14 days. We always check the returned goods for any usage, damages or scratches. If this should occur it will have an effect on the reimbursement.
EXCHANGES
Please make a return of the products you do not wish to keep and follow steps 1-3 under RETURNS and then place a new order.
COMPLAINTS
If the product proves to be defective, damaged or not to be the ordered item, please contact us via email at mo1@jewelrybymoette.com and explain what the problem is. We will replace you with a new item as soon as possible or you might be refunded depending on the product. If you have received an incorrect item despite a correct order, We would like to have the wrong item in return and replace it with the correct one. If we want the wrong or defective item returned, we will pay for the shipping. If the product should break when the customer returns it, the customer is responsible for this. Please make sure you use the same packaging as the item was sent in if you need to return it. Keep in mind that this is handmade jewelry that requires some care and consideration. Store the jewelry separately so that it does not rub against other jewelry. If you use foundation, it may sometimes color my Crazy-clay jewelry. To clean the jewelry, brush gently with a little toothpaste and rinse. Feel free to send an email if you have any further questions. We hope you will get a lot of pleasure from your jewelry. Thank you Jewelry by Moette.
RETURN ADDRESS:
Jewelry by Moette
Moette Rundblom
Bjurholmsgatan 21
SE-11663 Stockholm
Sweden